OK… the day I looked forward to with a mix of anxiety and hope came and passed less than three weeks ago, on Tuesday, January 21.
That was the day that Beats Electronics, the folks who make the (some say) overpriced, blinged out, glow-in-the-dark Beats by Dre headphones and who bought my once-beloved MOG all-320 kbps streaming music service back in mid-2012, dropped their new US-based online streaming subscription service, Beats Music.
Beats Music has a garish, flashily animated user interface on the mobile app — where the company has clearly put almost all their efforts — the web browser version is equally garish — but pretty much limited to play. They ended up producing a crippled, barely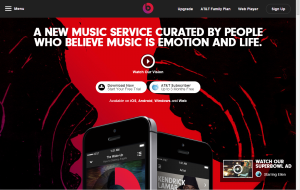 usable Android mobile app that still somehow seems to impress some users new to streaming — but painfully few existing MOG subscribers, many of whom seem to hate the new interface's stunning lack of features or basic player controls.
This will be the first of a series of posts here looking at the MOG/Beats situation and following the final days of MOG — and taking a good look at the dark horse service I'll be switching mounts for, the amazingly awkwardly named, dorky-looking but very full-featured Google Play Music All Access.
In subsequent posts,  I'll explore the many features of the Google Play Music player — the free online player (with free online storage for you own private music locker) that hosts the $10/month All Access on-demand music streaming service component.
Some of you anxie MOGgers will likely want to cut to the chase and check out GPMAA (GAA?) Brace yourself, the G-folks' idea of visual cool is as stunningly dorky as Beats Music is stunningly lacking features. But I've got a fix for that…
If you have Google Play Music and use Google's Chrome browser, you might want to try my free Gray Flannel Cool G-player restyle.
It only takes a few seconds to install it and the free Stylebot extension for Chrome. Here's all you need to know. If you already have Stylebot, click here.
Heck, maybe you'll even find yourself wanting to restyle GPM with a MOG look. There are already a couple of styles at the Stylebot Social site that are 80-90% of the way there.
Customizing a style is probably considerably easier if you know some web coding, but their right-click-menu driven system makes some stuff fairly simple — but it can definitely get tricky — I found myself just writing the CSS style code myself and using Stylebot to apply it to the site in the background when I visit.
READ about my original love affair with MOG here.
UPDATE 2014-02-16: A recent update to Google Play Music All Access extends the ability to 'pin' (download) an All Access track, album, or playlist to one of your authorized mobile devices' SD Card. Previously, it could only store All Access tracks to the typically limited internal (built-in) phone/mobile storage,  not your phone or tablets SD or microSD add-in storage.
(Of course, that doesn't help me with my Google Nexus 7 tablet which came with an increasingly tiny seeming fixed storage [16 GB — but that means everything, the OS, all apps, all movies, movies, books, etc, has to fit in side that fixed amount]. But it's ACES for my cheapo LG phone which isn't much of a hotrod — except for the 32 GB of storage I added to it. It was killing me thinking I couldn't temporarily DL All Access music to it as I'd been able to do with MOG. But now that's fixed. Thank you, Google! But, all the same, quit making devices with soldered in RAM and batteries, huh? Don't be evil.)